Kind to all dragons and riders alike. Has a fierce hate for anyone that threatens his rider or his friends. He is very sociable for a dragon. Istalri is made for hunting. He is also a great Wind-Rider. His name means "fire" in the ancient language.
Eyes-Bright and Fierce like a Diamond Color- Silvery like Moonlight. He is a little small but very quick for his age.
His rider is Dakin, Son of Ekurin, Master of Magic.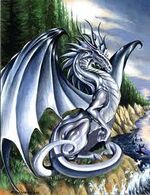 Ad blocker interference detected!
Wikia is a free-to-use site that makes money from advertising. We have a modified experience for viewers using ad blockers

Wikia is not accessible if you've made further modifications. Remove the custom ad blocker rule(s) and the page will load as expected.